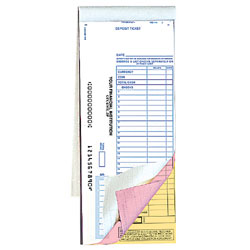 Business deposit slips are available in 4 different options.
1-part just the deposit slip.
2 part deposit slip+yellow imprint slip behind it
3 part deposit slip+yellow +pink imprint slips
4 part deposit slip+yellow+pink+canary imprint slips

Take the hassle out of filling in your name and personal information. Each deposit slip and imprint slip comes with your company name, address, and banking information.
Each set of slips comes bound in a book with a complimentary divider.

***Standard price below is for 200 1-part slips(before additional options). Shipping included******
See above for other options

**For larger quantities, please call for special pricing.