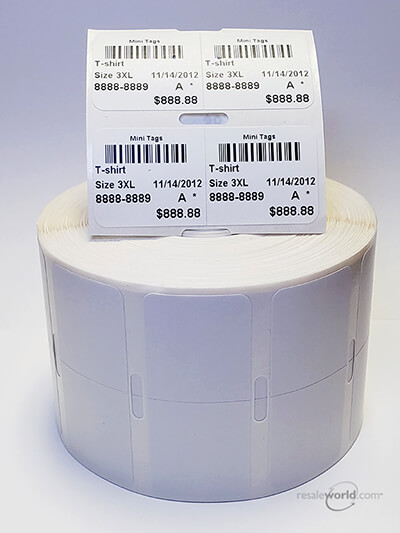 More Images
Our mini-tags are perfect for small items such as shoes, jewelry and accessories. They are only 1" x 1". There are 2,800 tags per roll!
Mini-tags can be used with the following products:
Liberty REACT
Liberty 5
Liberty 4 Consignment (Version 3.5a or above)
Liberty 2002
Using these tags requires either an Eltron 2622, Eltron 2722, Eltron Orion, Eltron/Zebra 2844, Eltron/Zebra 2824, Eltron/Zebra 2443 or TSC Thermal printer.
These tags are only available in white and they are 'sticky'!
All prices include shipping costs. Normal shipping is UPS Ground.
Minimum order is 12,000 tags or 4 rolls.
The price is per box (4 rolls per box).
Select the higher quantity level for better discounts and shipping costs.