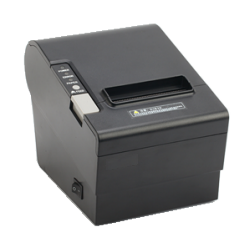 The Resaleworld Thermal Receipt Printer is the perfect add-on to your cloud solution. Featuring an ethernet port and fast printing, it will easily deliver speed to your printing requirements.
If you are using a Mac system, you must use our recommended Citizen Thermal Receipt Ethernet Printer.
High-speed (250 mm/s) printing
Compact design can be installed anywhere
Equipped with a fast and quiet cutter
Easy to clear cutter jams
Built-in cash drawer kick-out interface
Barcode and 2D barcode printing supported
This printer is the perfect addition to your cloud solution. It does NOT need to be attached to a computer in order to work. You can use one printer for multiple POS stations within close proximity of each other to save money.
You will need a router in order to use this printer for your cloud solution. You can use this printer on your desktop with either USB or ethernet as well. A router is always required if you plan on using ethernet.