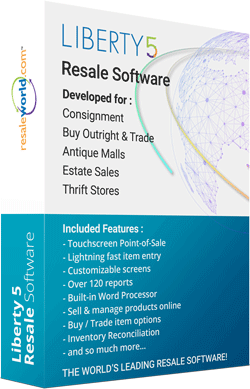 Upgrade your current version of Liberty to the new Liberty 5 version today and enjoy all the many new features, commands and functions that you have grown to expect from Liberty and more!!

As part of the latest in a line of software dating back to 1992, Liberty 5 continues to represent Resaleworld's philosophy that software products should be affordable as well as powerful. Liberty 5 is a true state of the art software, yet remains both user-friendly and supremely flexible.

NEW Features:
Multi-tab Layout & Account Screen – Navigate Inventory and Sales at a glance and move quickly between multiple accounts.
Liberty Dashboard – Instantly see a snapshot of key data, trends and sales metrics and post important messages for your staff.
Integrated Digital Consignor Contract – Create and edit templates for Consignor contracts and capture Consignor signatures.
reCommerce Omni Channel – Sell items online through multiple marketplaces such as Shopify, eBay and ShopRW simultaneously.
Integration with QuickBooks Online – Integrate with your QuickBooks edition whether it's desktop or QuickBooks online.
Buy/Trade Touch Screen Item Entry – Touch screen interface is now available for buy/trade items making item entry quick and easy.
Historical Pricing Guide – Price graph shows low, high and average historical sales prices for Buy/Trade items over a selected time.

Learn more about Liberty 5

View our Liberty 5 Videos

Important Notes:

Please check our system requirements section or contact a Customer Service or Sales Representative if you have any questions about your computer being compatible for the Liberty 5 upgrade.

If you are currently on both a Resaleworld Support and Resaleworld Tag Plan, you can call us to schedule your Liberty 5 upgrade.
As you use Liberty 5, you will probably have ideas on how we may improve it. We consider your ideas and suggestions on our product and services crucial to the future development of Liberty 5. Please contact us at any time - we love feedback!

More Liberty Software Highlights
Account List with color indicators

Recurring Fee Module

Simple Item Lookup

Charity Split Feature

Split with Consignor Coupon

Process Date field in item entry

Schedule online listings

Pay advances from the Point of Sale

Built-in Pricing Guide

Flexible Tax rate system

Quickly add photos to any item

Mobile App for Item Entry

Resale Rewards Loyalty Program

More security with Integrated processing

Convenient Point of Sale interface

Easily email any Item List

Enhanced Security levels/roles for staff

Directly email Word Processor letters

Optional PIN login for Point of Sale

Over 120 Customizable Reports

View Account notes from Point of Sale