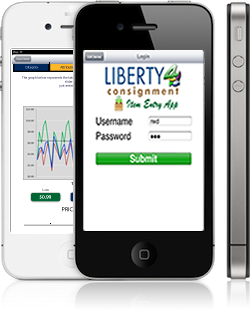 More Images
The Liberty Mobile Access License is required in order to use the following Apple iOS Applications: Liberty Item Entry, Item Entry Lite and the Liberty Sales Summary App. This network license provides the necessary credentials so you can use these unique mobile applications.
After your purchase of the Liberty Mobile License, you can visit the App Store and download one of our Liberty Apps to your iDevice. Next, you will need to contact our support department to ensure that your App has been properly configured.
Users can (purchase and download) our Apps from the Apple App Store to connect their Liberty software through an iPad, iPhone or iPod Touch. The Liberty Mobile License allows you to connect as many devices as you want but please check with Apples current polices regarding downloading the Apps on additional devices using the same or different Apple ID.
You will only need ONE Liberty Mobile Server License for each Liberty database you are accessing.
*Your support contract price will increase by 1 additional user license for the mobile server in accordance with our normal support policies*
Liberty Item Entry App

Item Entry Lite

Liberty Sales Summary

Liberty Mobile Remote Configuration
*REQUIREMENTS for use Externally:
To use the Liberty Mobile Item Entry App, Item Entry App Lite and Sales Summary App anywhere outside your store (where an internet connection can be established), it will require that you have a STATIC IP Address from your Internet Service Provider. As Resaleworld needs to configure router settings, a $50 fee will be charged at the time of configuration. Please have your router credentials ready for our technician.