Run Liberty from the cloud. Work from wherever,
whenever and with whatever!
Resaleworld makes it extremely easy to run the industry's favorite consignment program directly from the 'cloud'. This option allows stores to rent their computers and software which allows you to 'set' the cost of your technology to one low price. It's a perfect solution for startups or for companies who want to be web accessible.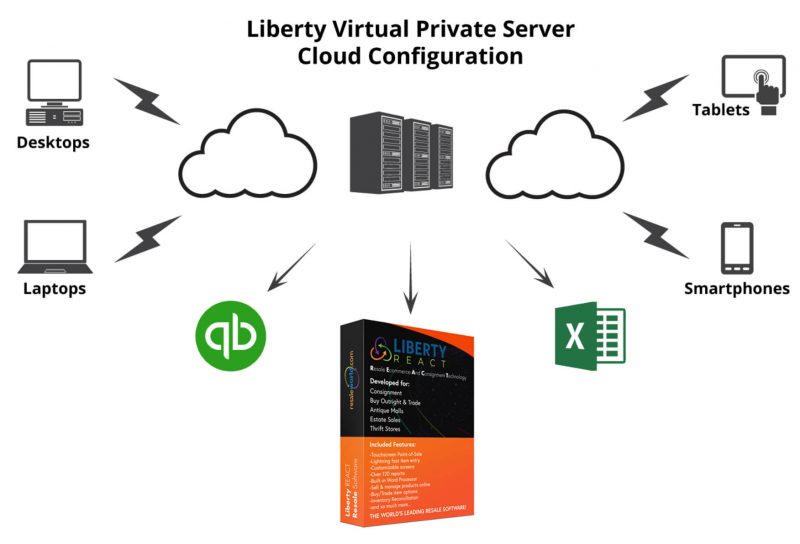 "Here's what you get for just one low monthly price..."
Your own Liberty Virtual Private Server
Connect up to 40 Liberty users
Windows Server 2016
SQL Server 2014 Express (Web Edition for 13+ Users)
Automatic nightly backups
FREE Liberty Mobile Network License (Reg. $299)
Unlimited Technical Support (not just email)
VIP discounts on Cloud Tag Plans
Ability to connect hundreds of mobile users
FREE Liberty Mobile Remote Configuration
"Here are the highlights and benefits of cloud computing..."
Fully Multi-user and Multi-Tasking
No installing software - it's already loaded
Never need to install updates
Run your other important Windows Programs
Your data is always secure
No need to worry about your equipment
Fully integrated credit card processing.
Never need to worry about drivers or peripherals
Perfect for franchises.
Compatible with all Resaleworld hardware
Work from your computer, laptop or tablet.
Works with Macs, Tablets, Laptops, Desktop,Terminals
Handles pin-pads and card swipes for credit cards
Perfect for multi-store locations
Works great for "MOB" consignment events
Consignors can enter their own items
Better performance than desktop or laptop
Here's a list of supported cloud peripherals.
Once you submit the order with the Liberty Cloud request, a member of our Sales Department will contact you within 1-2 business days.