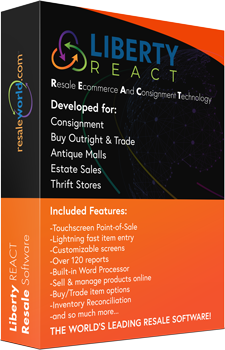 Resaleworld is pleased to present our next generation of resale software that comes from a long successful history of resale software products dating back to 1991.
Liberty REACT, or Resale Ecommerce And Consignment Technology is a state of the art software product that has helped define industry standards, and has been exclusively designed for resale business owners just like you. Liberty REACT continues to represent Resaleworld's mission, and philosophy, that software products should be affordable as well as powerful, and remain user-friendly and adaptable.
Liberty REACT far exceeds other industry software choices and has proven itself to be the leader when helping Store Owners with managing Accounts, Inventory, Point of Sale transactions, Payouts, Reporting and eCommerce integrations. Resaleworld is here to help you succeed no matter how small or large your business is, and Liberty REACT will provide you with all the features that are most important to you so you can focus on successfully growing your business!
There is no doubt that the level of sophistication found in Liberty REACT is a requirement for any enterprising resale store owner in today's competitive market. Click here to view all the Liberty REACT Features.
We offer a variety of training options such as free instructional videos and step-by-step help articles that are built right into the software. We also have more dedicated options such as webinars, in-house classroom or on-site training programs, as well as one-on-one over the phone hourly training sessions. We want to give you what you need so you and your team can realize the full potential of the Liberty software.
Liberty REACT is a subscription based service. The software is available either as a Cloud Hosted Service (Liberty Cloud), or for PC Desktops. In order to utilize Liberty REACT in a desktop environment, a Maintenance Plan must be active on your account. Learn more here.
Please contact our Sales Department at 1-800-785-4800 (Press 3 when prompted), and we'll be happy to work directly with you to determine your specific software and hardware needs so you can start using Liberty REACT today!
LIBERTY REACT Features
Multi-tab Layout & Account Screen:
Navigate Inventory and Sales at a glance and move quickly between multiple accounts.

Consignment Tracking:
Track when drop-offs occur, print a receipt (for you and/or for the Consignor), and update processing status.

Prepaid Buys:
Immediately pay out or issue credit for an outright buy. Inventory the purchased items later, and the cost of the buy is correctly distributed to each item.

Customizable POS menu buttons:
Customize where buttons appear on the Point of Sale's main menu to make commonly used features easily accessible.

Item History:
View a list of edits made to key item fees - Price, Cost, Location, Price Code. See the old and new values, the time of the edit, and the user who made the edit.

Liberty Dashboard:
Instantly see a snapshot of key data, trends and sales metrics and post important messages for your staff.

Integrated Digital Consignor Contract:
Create and edit templates for Consignor contracts and capture Consignor signatures.

reCommerce Omni Channel:
Sell items online through multiple marketplaces such as Shopify and EBay.

Integration with QuickBooks Online:
Integrate with your QuickBooks edition whether it's desktop or QuickBooks online.

Buy/Trade Touch Screen Item Entry:
Touch screen interface is now available for buy/trade items making item entry quick and easy.

Historical Pricing Guide:
Price graph shows low, high and average historical sales prices for Buy/Trade items over a selected time.


Learn more about Liberty REACT
View our Liberty REACT Videos
Interested in our CLOUD based version of Liberty REACT?


Important Notes:

Please check our system requirements section or contact a Customer Service or Sales Representative if you have any questions about your computer being compatible for the Liberty REACT software.

Ask our Sales Department about a 6-month payment plan option for the purchase of the Liberty REACT Software.

An annual Maintenance Plan is required for Liberty REACT purchases and can be billed Quarterly or Annually.
More Liberty Software Highlights
Account List with color indicators
Recurring Fee Module
Simple Item Lookup
Item Edit history tracking
Charity Split Feature
Split with Consignor Coupon
Process Date field in Item Entry
Item User fields can be renamed
Category/tag type associations
Schedule online listings
Default category weights
Pay advances from the Point of Sale
Built-in Pricing Guide
Flexible Tax rate system
Quickly add photos to any item
Mobile App for Item Entry
Resale Rewards Loyalty Program
More security with Integrated processing
Convenient Point of Sale interface
Easily email any Item List
Enhanced Security levels/roles for staff
Directly email Word Processor letters
Optional PIN login for Point of Sale
Over 120 Customizable Reports
View Account notes from Point of Sale
Ask a question about this product