Why Choose Liberty Cloud?
Work from wherever, whenever and with whatever! It's a perfect solution for startups or for multi-location companies that want the flexibility of using one database for all stores or who want to be web accessible. This option allows stores to rent their software as a monthly service so you can set the cost of your technology needs.
Fully Administered Virtual Private Server
Connect up to 40 Liberty users
Windows Server 2016
SQL Server 2014 Express (Web Edition for 13+ Users)
Automatic nightly backups
FREE Liberty Mobile Network License (Reg. $299)
Unlimited Technical Support (not just email)
Ability to connect hundreds of mobile users
FREE Liberty Mobile Remote Configuration
Fully integrated credit card processing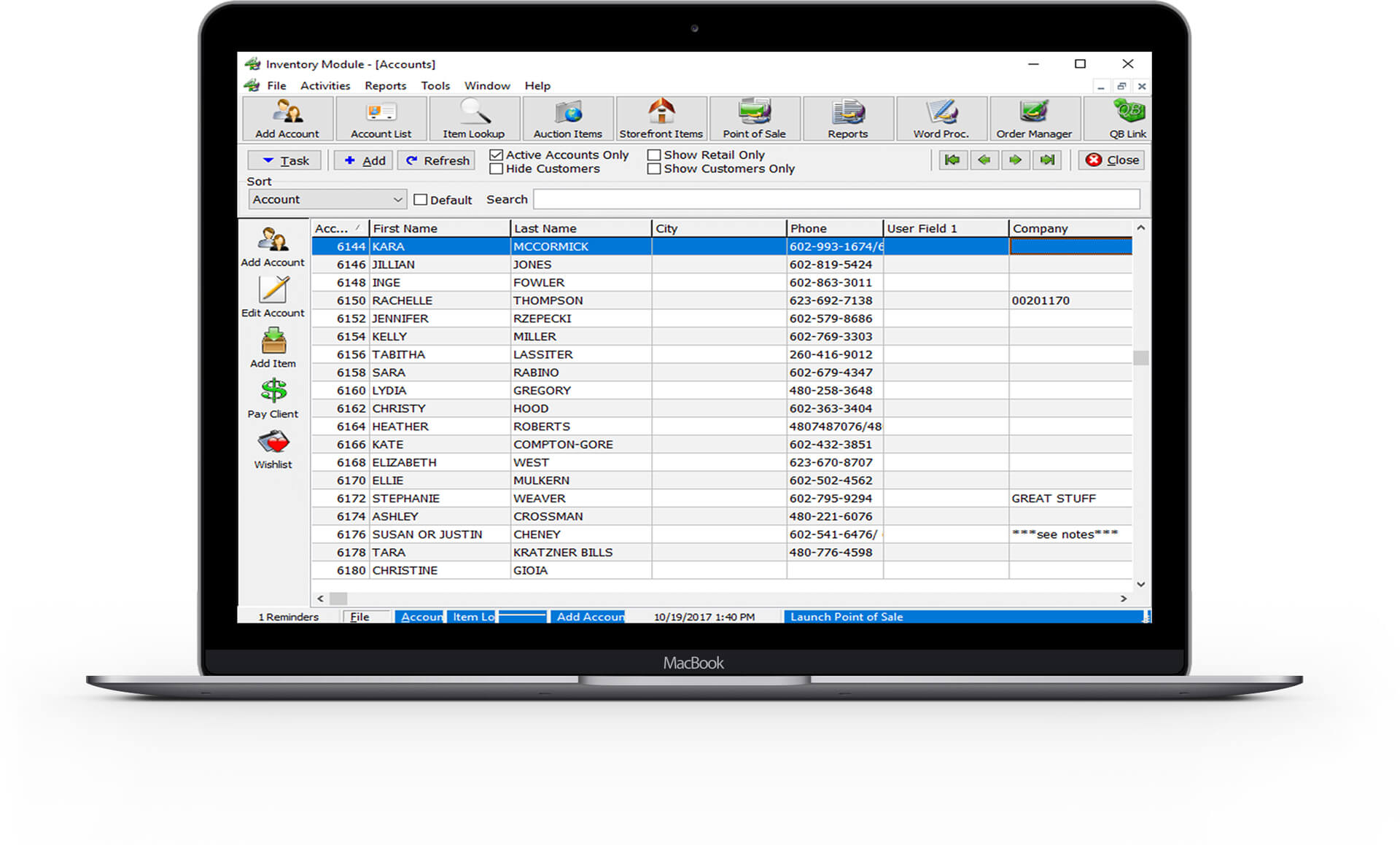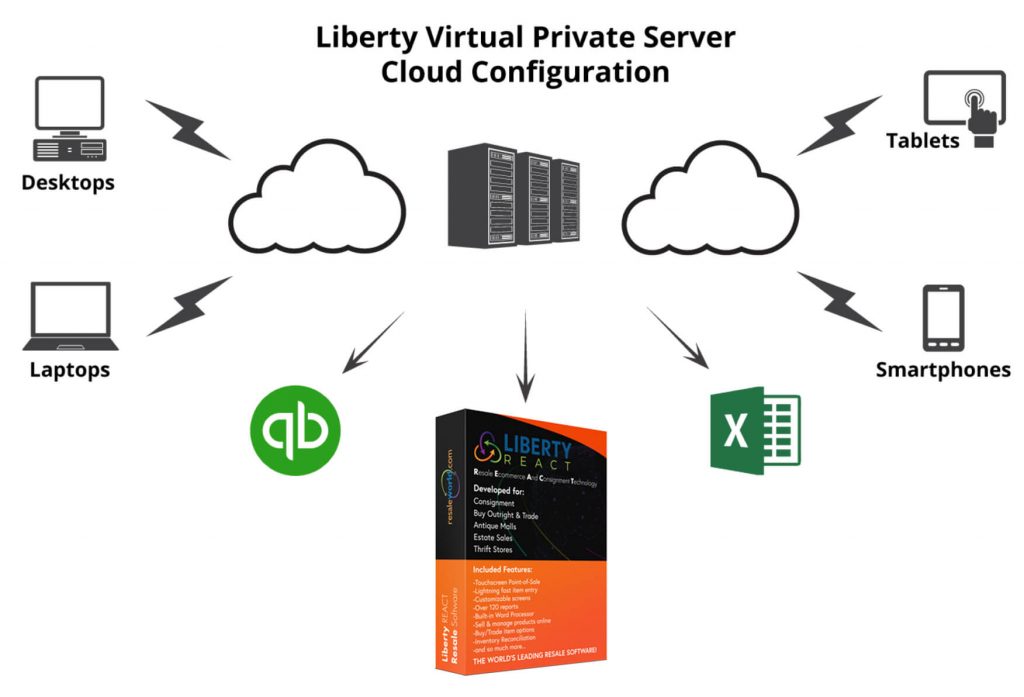 Benefits of Cloud Computing
There is no software or driver installation required to use Liberty Cloud. No more having to worry about installing the latest updates to keep your data secured. This cloud-based solution is compatible with all Resaleworld hardware and handles pin-pads and card swipes for credit cards. Liberty Cloud is perfect for any business size including multi-store businesses and franchises.
Fully multi-user and multi-tasking
Run your other important Windows Programs
Your data is always secure
No need to worry about your equipment
Same version as the Desktop edition
Works with Macs, tablets, laptops, desktop, terminals
Works great for "MOB" consignment events
Consignors can enter their items
Better performance than desktop or laptop
Essential Hardware
We've outlined a few essential products that make cloud computing much easier to set up. While running your software on a cloud-based solution like Liberty Cloud, ethernet devices can make things very simple. The reason is, ethernet devices can be connected directly to your network router rather than a physical computer. This way any device which has a connection to your network, can quickly connect to your ethernet peripherals to begin using them.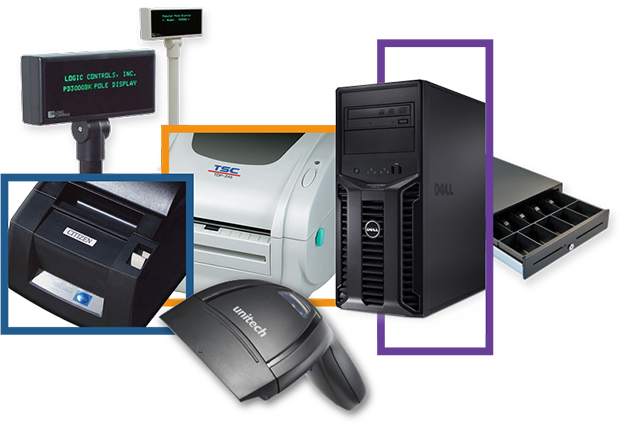 Frequently Asked Questions
What is the ' The Cloud'...what does it mean?
It's not as scary as you think.
The cloud is a commonly used industry term which means running software over the internet. The name comes from a cloud-shaped symbol as an abstraction. The software is stored on a network device and accessed through the internet.
Which version of Liberty is in the cloud?
The latest and greatest of course.
Our Liberty Cloud version is identically the same as our Liberty Desktop version that is used by thousands of clients all over the world.  However, there are no restrictions with the Cloud so you can work anywhere, on any device, anytime.  Also, the Cloud does include a few 'location specific' enhancements for receipt headers, tax differentials and remote printers.
What is a Virtual Private Server, it sounds technical?
It's just a computer in the sky.
A VPS is just a computer running in the cloud which resides next to other virtual computers in a hosting provider facility. It is normally a sub-machine of a much larger computer. Usually, you can have many VPS's running on one machine – sometimes as many as several dozen.
How powerful is the VPS?
More powerful than a locomotive.
The base VPS we set up for stores is 8GB of memory with 2 Processors. You also get 75GB of storage on an SSD disk. It's more than sufficient to run Liberty and other Windows programs. For large stores, we can upgrade the server with additional memory and SQL Server Web Edition.
What do I need to connect to my cloud VPS?
What do you have?
There are many devices which can connect to your VPS. You can use any computer that is running Windows 10.  You can also connect with Macs, an iPad or an Android Tablet.  Laptops work too as long as they are not running ChromeOS.
Any limitations with any of these devices I can use?
Yes, this is important!
Yes, there are. Because printing is a big part of your software, devices such as iPads, tablets, Macs and thin clients have limited printing capabilities. Windows computers are much more fully capable of running the necessary devices you need to print. At this time, we only support peripherals recommended by Resaleworld which are available to browse on our website.
What about Credit Card processing?
It's business as usual.
You have a few options. The terminals that work with Payment Logistics are ideal for the Liberty Cloud environment, as they connect to your local network via ethernet, and thus the type of device you're using to connect to your server becomes irrelevant (POS from a Mac or a Tablet? No Problem!). These terminals are also by far the most secure solution available, as encrypted card data is transferred directly from the terminals to the card processor – and not to the cloud server first. All Payment Logistics terminal can handle Credit, Debit, EBT, and Gift Cards – they're also all EMV ready. Their PAXS300 terminals are Signature Capture devices and are compatible with an optional peripheral that allows for NFC transactions (such as ApplePay).
(Learn more about our Payment Logisitics)
Payment terminals compatible with our other integrated processors will work provided they're connected to a Windows PC. Certain devices (Magtek IPAD-SC, Magtek DynaPro) require an additional piece of software to work properly over Liberty Cloud. Basic card swipes and pin pads will work provided they are connected to either a Windows PC or a Dell/Wyse Thin Client, or an Asus EEE – extra security measures are strongly recommended for this configuration, as basic swipes do not encrypt card data.
What additional protections are available when using integrated credit card processing?
Are you using Payment Logistics? If so, then you can relax! With Payment Logistics, credit card data is encrypted by the terminal itself, and is transmitted directly to the processor – never traveling through your Liberty Cloud server.
By default, all Liberty Cloud servers are configured to use a security policy that is locked down much tighter than a standard Microsoft Windows Server installation. Network Level authentication is required, and all Remote Desktop traffic uses FIPS-140 compliant encryption.
If you are using a necessary card swipe with one of our other integrated processors, then we do strongly recommend that you add extra security measures to remain PCI Compliant. We do have the ability to install a Self-Signed certificate (with 2048 bit encryption) on your Liberty Cloud Server, which allows for your Remote Desktop connection to utilize SSL encryption.
What about my data, is it easy to access because it's in the Cloud?
You always have full access.
Absolutely, the data is easily accessible to you (but not to anyone else!). Unlike other cloud-based solutions, Liberty Cloud is a fully functional remote computer. You can access your data just as easy as if the data was sitting right there on your PC. There is really no difference.
How is my Liberty data protected?
We understand the importance of keeping your data secure! With Liberty Cloud, you'll never have to worry about unauthorized access to your database. Every Liberty Cloud server houses its installation of Microsoft SQL Server – the engine that powers your Liberty database. We configure each Liberty Cloud SQL installation to reject all remote connections – to gain any level of access to your data; a user must already be connected to your server using an authorized, authenticated Remote Desktop connection. We do not store plain text database passwords anywhere – only an encrypted value that is useless to anything other than the Liberty software. Off-server database backups get encrypted on the Cloud Server before being uploaded.
Who does my data belong to?
It's the same as running Liberty on a server in your store. Your data belongs to you and you alone. Our role as a custodian for your data does not give us any level of ownership, nor does it empower us any rights to distribute any information contained within. We will maintain your data for as long as you use the Liberty Cloud service. Should you wish to discontinue the service at any point, we will store a backup of your data for up to a year, in case you need it.
Can consignors connect to my data to enter items for their account?
Liberty Mobile License Included
Absolutely. Every VPS cloud-based system 'includes' the Liberty Mobile Server license. This allows consignors to enter items directly into your database using the using our FREE Liberty Item Entry App 'Lite' version.
If you want to use the more robust version of the Liberty Item Entry App, you can allow employees or managers to enter items, add photos and manage store and consigned accounts. Connect as many users as you want!
How long does it take to get up and running?
How soon will you be ready?
Usually, we're able to completely set up brand new Liberty users within one to two business days from the time we process your order. For existing Liberty users that are migrating to Liberty Cloud, the turnaround time depends a bit on the situation and your schedule. The migration process can potentially take a few hours, so we try to plan it out to minimize your downtime. We typically schedule migrations for existing users on Tuesdays, Wednesdays, or Thursdays, but we will do our best to accommodate your schedule. Usually, an existing Liberty user that is migrating will be up and running on Liberty Cloud within two to three days from the time we process your order.
What if I don't like the 'cloud' after awhile and want to use a desktop instead?
No worries…
Not a problem.  We can backup your data and restore it to a computer for you. You will then convert to a traditional desktop model and purchase a standard Liberty license.  We will give you credit for a portion of the amount of time you were using the cloud service.  You will not have to repurchase an entire license.
This all sounds new, have other Resaleworld customers done this?
This is proven technology
We have many customers who are already doing this and love it.  We are putting this service together so that stores have a choice on running Liberty. Also, finding technicians can who do this type of work is somewhat difficult so we decided to roll our own solution to help customers with this somewhat complex process.
How do the automatic backups work?
Carbonite to the rescue!
We realize that maintaining a solid backup plan is critical for your business. That's why we use Carbonite's Server Edition to securely back up everything that a standard Liberty backup includes, plus a shared desktop folder where you can place other documents such as Quickbooks backups. A copy of the Carbonite backup is first created and stored on your Liberty Cloud Server, and then encrypted and uploaded to Carbonite's own cloud storage solution. If any portion of the backup process fails to process correctly, Resaleworld's Support Department is notified via email so that they can identify and correct the issue immediately.
What if I already own Liberty software?
Not a problem!
If you are on the most current version of the Liberty Desktop software and you want to move to Liberty Cloud, ask a sales representative to see if you qualify for a small monthly discount. You can back up your database file and restore the data to the cloud when you're ready to pull the trigger.   It's pretty easy!  Note: if you are using the Liberty 2002 version, you will need to upgrade to the most current version of Liberty before moving to the Cloud and unfortunately, those that are using L2K2 would not be able to utilize the Cloud service.
Will Resaleworld help me install my other Windows Programs?
We can do that…
We can install some of the more significant windows programs out there such as Quickbooks, Open Office, etc. There is a $49 per program installation charge. If you have another application you need to install, let us know. We will give you our recommendation. Remember, your space is somewhat limited on the VPS so you can't start loading everything up there.
Please do keep in mind that we're obligated to abide by the terms of the license agreement for your software. Specific software, most notably desktop versions of Microsoft Office, cannot legally be installed on a remote server. When such cases arise, we're happy to discuss potential alternatives.
How does Liberty Cloud prevent unauthorized individuals from accessing my server?
Security is a top priority.
A list of known malicious IP Address pools located outside of the United States has been added to the Windows firewall block list. There is also an account lockout policy in place that requires any user that inputs an incorrect password three times to wait 15 minutes before they can sign in again. Furthermore, if the login fails to login correctly 10 times total within a 24 hour period, their IP address will be added to the firewall block list preventing them from connecting to the server in the future. The default remote desktop listening port has been changed on each Liberty Cloud VPS to a non-standard port.
What is the security policy in place for Liberty Cloud?
We keep things locked down.
Liberty cloud requires a complex password at least seven characters long containing one capital letter and one number. We recommend that each user that signs into Liberty Cloud change their password once every thirty days. Any disconnected but active sessions open for longer than 15 minutes are automatically logged off. The server can also be locked down as an additional option only to run Liberty software, ensuring that employees are only run Liberty software on the server.
How are upgrades and maintenance handled?
After hours maintenance
Automated processes that run overnight handle (Liberty Updates, Windows Updates, disk cleanup, and database optimizations). If an abnormal circumstance requires maintenance during your regular business hours, Resaleworld will call and schedule an appropriate time for any work needed.
Is the Liberty Cloud environment PCI compliant?
Absolutely…
We would like to say absolutely 'Yes' to this question but being 100% PCI compliant requires a third-party company to absolutely ensure your system and credit card practices comply. If you are going to use a Payment Logistics device for credit card processing, you are well on your way to the path of PCI compliance. Our credit card partners have yours and our interest in mind and feel strongly about the solution we are providing to our Cloud customers. Our support technicians would be happy to talk to you further about this extremely important issue one-on-one if you require further explanation.
What if we need more than 20 stations accessing the cloud?
We can handle many different size stores.
Congratulations! You're a successful store and require something a bit beefier than our standard cloud configuration. Your requirements are much higher. Memory and Database Engine limitations all come into play as your store and needs grow. In this case, we can allocate additional resources to your Server on the fly – typically, this doesn't even require a reboot! If your needs reach the point where SQL Web Edition is needed, there is some downtime that you will need to plan for as the setup for this will take your database offline – we will work with you as much as we can to find a convenient time to schedule this upgrade. Pricing for 21 or more users will be quoted by your sales representative.
We'll even cover your receipt printer!
Lifetime Warranty on RW Receipt printers.
Lifetime Warranty on RW Receipt printers. If you are using our Cloud service and also have a Tag plan associated to your account, once you purchase a Resaleworld receipt printer, you will be covered by our Lifetime Warranty. As long as you remain a Cloud customer and keep your tag plan, we will repair or replace your receipt printer should anything happen to it – absolutely free!