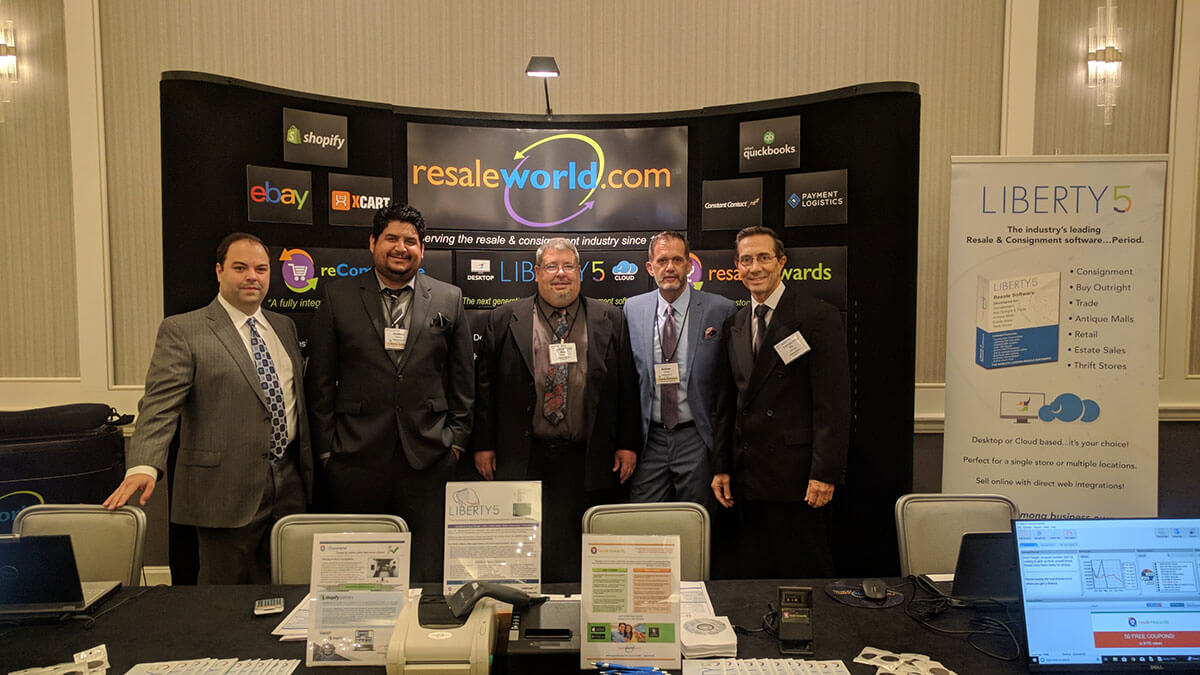 "Our Mission is simple; we want to exceed your expectations and dedicate ourselves to providing you the best in software solutions, customer service, and product innovation, period."
Resaleworld was initially formed as Liberty Systems in 1991 and renamed Resaleworld.com in 1999.  President & CEO – Edmond E. DiRuzza, created a simple philosophy for the company: "We will develop, market, and support the finest inventory management and point of sale software for the consignment and resale industry." By focusing on providing top quality, state of the art solutions and outstanding customer service, Resaleworld.com has become the world's leader in software to the resale industry. Resaleworld has also been a proud member of NARTS for over 25 years.
You can't fake experience.
Expertise and longevity in the industry don't happen overnight. Whether you are a new owner or a seasoned merchant, it is vital for you to trust and rely on your software provider. We want to share our professional knowledge and experiences to help guide, support and provide you with real business solutions that keep you on the leading edge of technology and empowering you to design your success.
Perfection requires time.
Liberty is Resaleworld's flagship product and has created the pathway and the innovation directly for consignment and resale shop owners to help them organize and simplify their approach to inventory management, sales, and operations. We are proud of our history and happy to provide the most powerful, ultra-reliable and intuitive interface that combines flexibility and ease of use.
What we value.
In today's world, the value is personal, appears in many different forms and creates a variety of expectations.  It is essential for us to develop strong and lasting relationships with our merchants, business owners, and industry leaders. We value the conversations we have and the insights we receive from our customers which in turn, helps us provide you the best possible products and services.
Working closely with consignment stores for years.
Resaleworld has over 25 years experience working with consignment stores in North America and across the world. Also, our staff has personally visited and met with well over 1,000 consignment store owners in their stores in just the last ten years. Resaleworld has spent more time listening to the needs of consignment stores coast to coast than any other company. Our software shows this, and our customers have benefited significantly as a result of our care and attention to detail.
What makes Resaleworld different?
Insight and honesty. Our unparalleled experience working side by side and listening carefully to our customers has given us better insight into the actual needs of consignment, resale and drop-off stores than any other company. More importantly, we'll give you the information you need to know to make the right decisions when computerizing your store. We'll tell you what you need, and what you don't need. When you need honest, reliable, straight to the point answers, you know you'll get them from Resaleworld. Your total satisfaction is our number one priority, because we know the happier you are, the more successful we will be.
"We are very grateful for all of the relationships we have built with our merchants and thank you for choosing Liberty Consignment software. It is our pleasure to help you create a successful and prospering business."