A technical staff with over 100 years of combined experience in Resaleworld software products.
Resaleworld Support
How big is your support staff?
The Resaleworld development team works closely with our support technicians to ensure your Liberty software runs successfully with minimal downtime. Our technicians are experts in handling most computer questions, troubleshooting our supported printers, and solving all Liberty software related problems.
Submitting Trouble Tickets
How fast will I get a call?
Every call submitted to our support queue is responded to by our next available Resaleworld support technician. Our turn-around time is approximately thirty-minutes on average. During peak times, you may experience a callback time of about 1 hour. Peak times are infrequent. Usually, they occur on Friday afternoon or during peak Holiday selling days.
Save time by submitting a trouble ticket directly from My Resaleworld Portal. Once logged in, click on the tab labeled tech support and enter a description of what you need assistance with.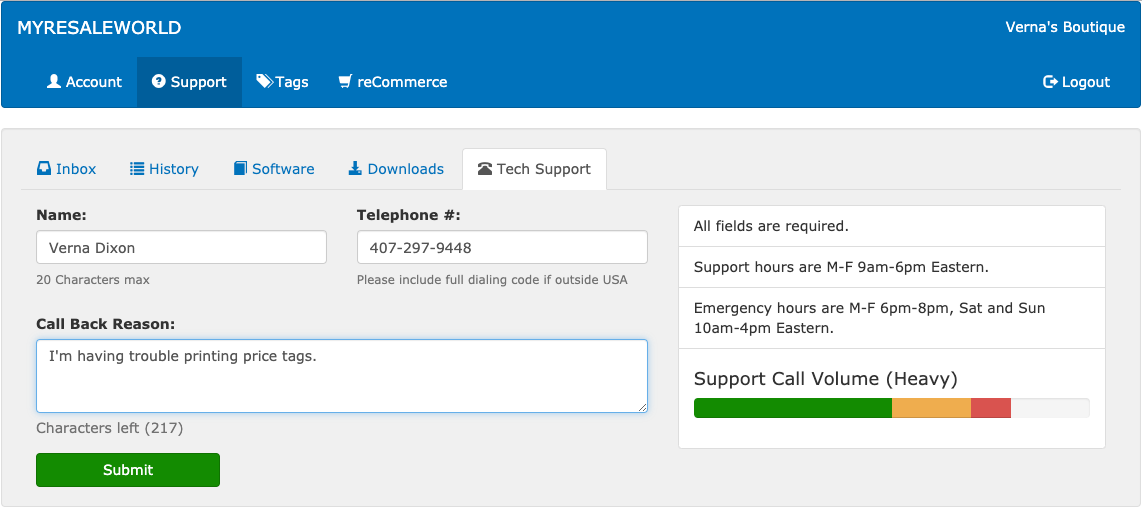 Your ticket will then be immediately entered into our support queue and alert the next available technician.
Outsourcing
Does Resaleworld outsource any of its' support?
Not! Our technicians handle all issues related to Liberty. We feel that outsourcing support diminishes the value of our company and leaves too much finger pointing. If it's related to Liberty, we handle it. We understand that our customers depend on us for advice and help when setting up their computer systems for their business. Leaving it to someone else just doesn't cut it.
Scheduling Calls
What if I have a local technician coming on-site?
Should you hire a local computer technician to set up your hardware or network and they request to speak with Resaleworld support; We recommend having your technician call us ahead of time to schedule a callback time with one of our support technicians. Just call support at 800-785-4800 to schedule a callback time. We will do our best to accommodate your technician's schedule, so you don't have to pay them to sit around.
Resources
Need Training?
Support Hours
Support hours:
Monday – Friday  9A.M to 6P.M est.
Emergency only:
Monday – Friday 6P.M to 8P.M est.
Click here for more information about emergency support.