The Liberty Kiosk App
Empower your shoppers and consigners with the ability to update their accounts, search inventory, check prices, review consignor contracts, and so much more!
Designed for Apple iPads. Compatible with Liberty REACT 6.0b
Long Live Efficiency!
The Liberty Kiosk App allows you and your staff to save more time than ever before. This system will help cut down long lines during busy seasons as well as the need for having to walk away from the register to assist customers with treasure hunts or simple tasks that they can now do themselves without having to wait.
Work Smarter. Stress Less.
Your staff will absolutely love you for it! Less stress, shorter lines, and more time to focus on what matters most to your business.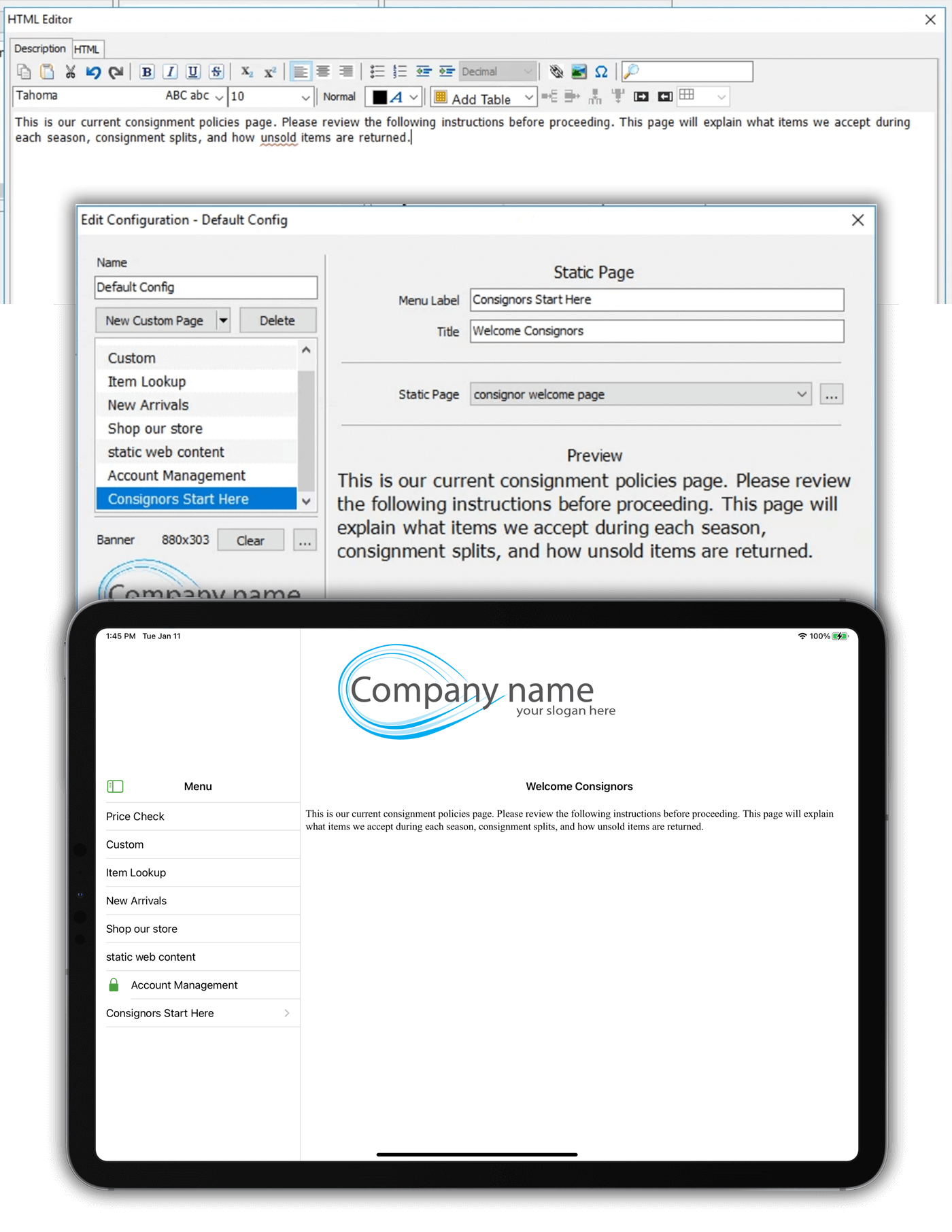 Promote Sales and Events
Create unlimited marketing and informational web based static pages with ease. Pages can be easily created using a simple to use text editor. Simply create your content and then select which pages to make accessible to your customers and consignors to promote upcoming sales, special offerings, or events.
Get Consignors Set Up
The Liberty Kiosk App can also be used as a getting started tool. Create a page that explains your consignment policies and procedures. Create another page to acknowledge what items you are currently accepting for consignment or what brands you no longer accept. Create as many pages as needed to guide new potential consignors throughout your process for consigning items with you before having them electronically sign an acknowledgement form on the Kiosk. We're all about efficiency! Now just imagine how much time this will save both you and your staff in the long run. Whew…
Close The Gaps On Efficiency
The Liberty Kiosk App is a powerful tool and the first of it's kind in the industry that empowers your customers with the ability to take part in searching for items, check prices, update account information, or search for items listed only on your website without having to wait for assistance during busy seasons.
An Easy Button = Happy Consignors.
Consignors no longer need to wait in long lines to review and sign a consignor contract, update account information, check payout history or view the current status of their inventory.
Consignor Portal
Consignors now have the ability to check their payout history, status of inventory, and account details directly from the Liberty Kiosk App. No more asking your busy cashiers or store manager to look up that information for them. All it takes is a few seconds to sign in with their consignor credentials and the press of a button to instantly access the account details. With the Liberty Kiosk App you'll no longer keep them waiting.
Consignor Contracts
The Liberty Kiosk App is a great way to request and obtain signatures for modified or renewal consignor contracts. Web-based pages can also be easily created from the admin dashboard to display additional information to your consignors. This is a great tool for making your consignors aware of new policy changes or methods in how to consign items at your store.
Account Management
The Liberty Kiosk App offers a quick and easy way for your consignors to sign into their accounts and update any contact details such as their phone number, street address or email. Decrease the chances of typos or incorrect spelling on consignor accounts. Keep your staff free to checkout customers by limiting the time spent on updating consignor account information. Again… it's all about efficiency!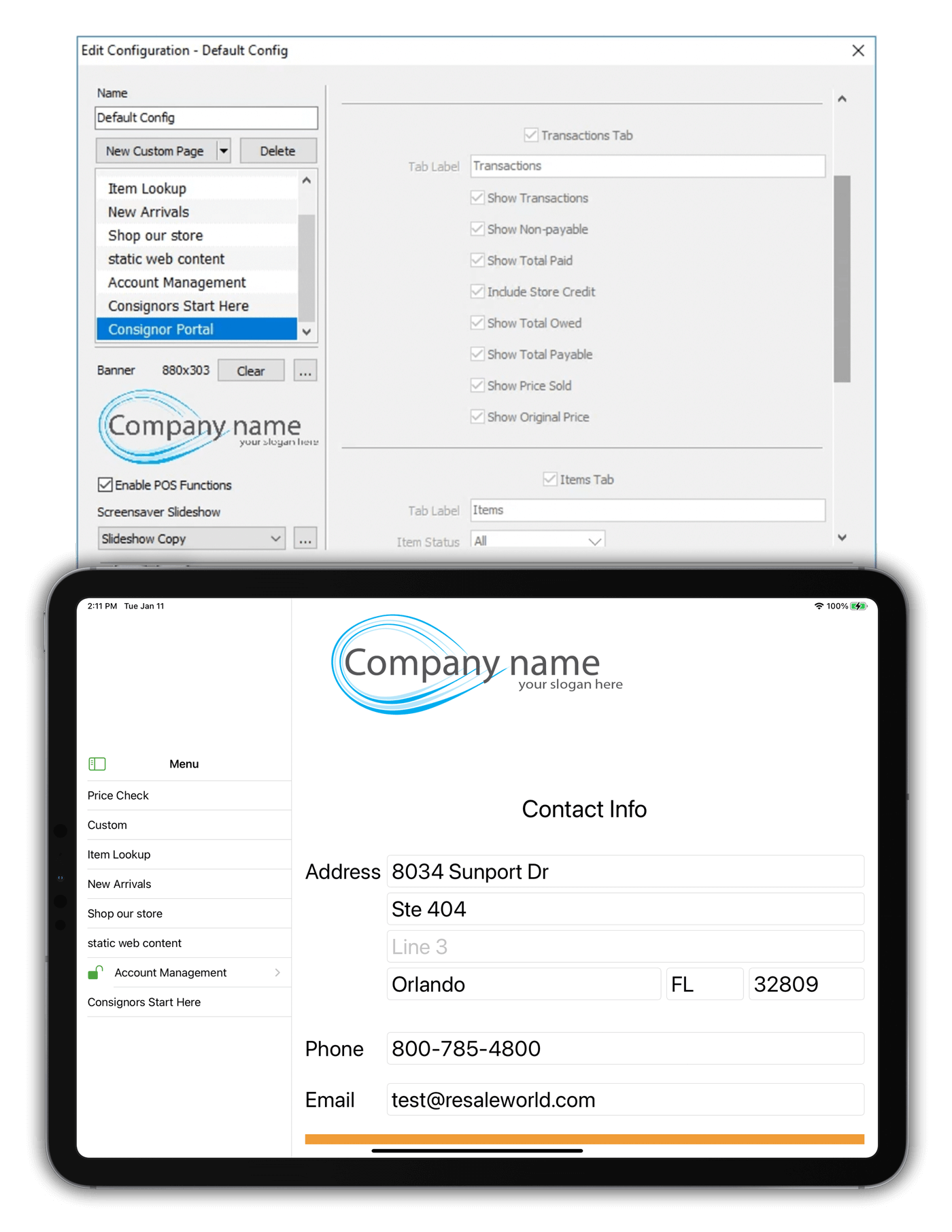 Offer them more ways to buy and they'll buy in more ways than one...
Customers can quickly search through all available inventory, view the latest arrivals, scan tags for current prices, browse products from your website, and learn about upcoming sales.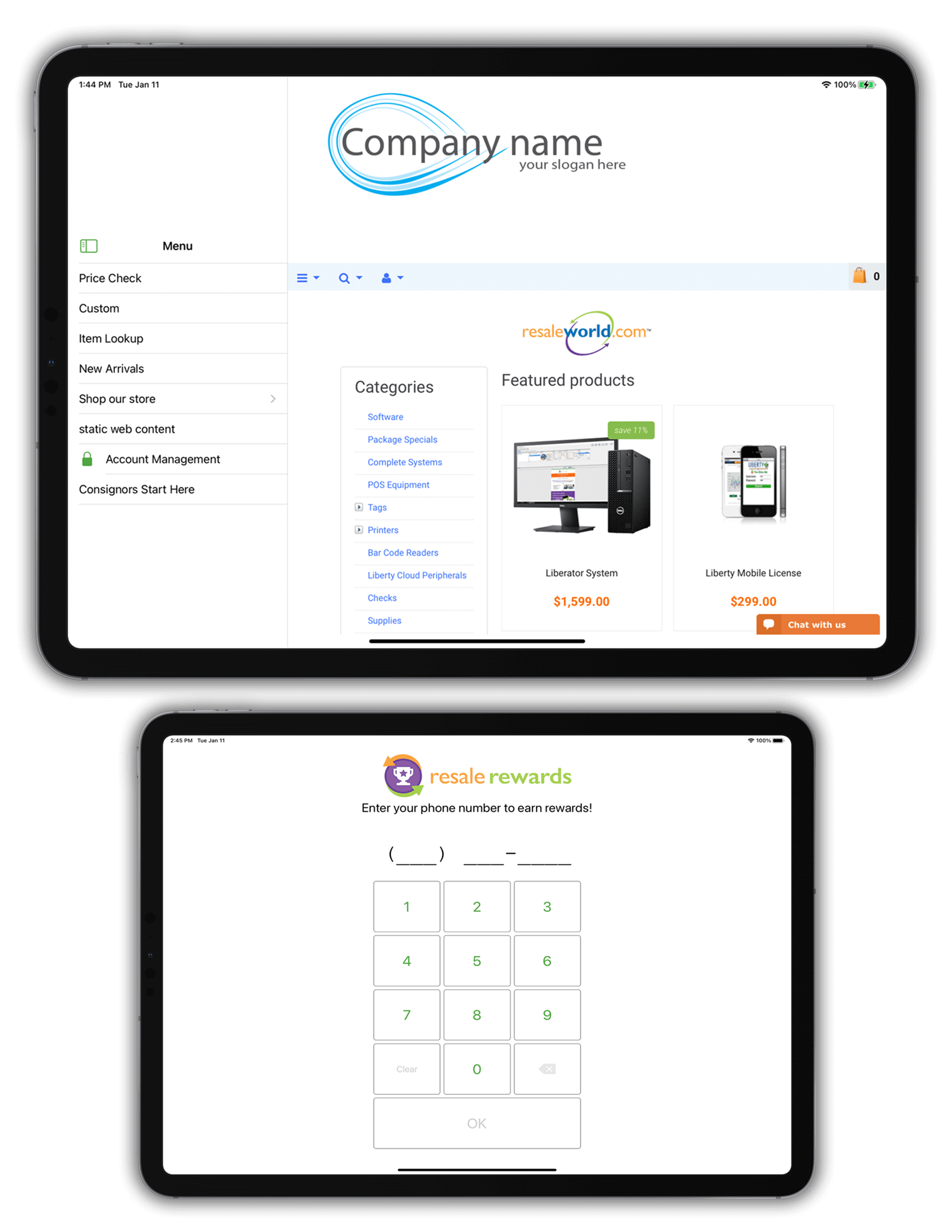 Item Lookup
Tired of having to constantly walk away from the register to assist customers with their search? Minimize time spent on searching for items by empowering your shoppers with the ability to search across your entire inventory within seconds. Immediately cut down on time wasted searching for items you don't currently have.
Browse Online Inventory
Do you currently have a Shopify website? Guess what… You can also customize your Liberty Kiosk App to include an option that allows your customers to browse your website online directly from your kiosk device. Another option would be to create a page with QR codes to featured products currently on your Shopify website that haven't been put on display yet. Your shoppers can scan the QR code from their own smartphone mobile devices to shop and complete their purchase online. And since they're already at your store, they can also save big on large items by choosing local pickup and having their shipping fees waived.
Resale Rewards Registration
This crafty feature lets you convert your kiosk into a key pad so customers can easily register for Resale Rewards by tapping in their phone number on the kiosk screen. The customer simply taps in their phone number which is then displayed on the POS screen for the cashier to verify before completing the registration process. Yet again, another step your cashiers no longer have to worry about to speed up the checkout process even more.
Price Check
Customers can now easily perform price checks without having to wait for assistance. Simply wave the price tag across the iPad scanner and Liberty Kiosk will immediately display the current price of the item. Works best in stores that use price markdowns by date and color.
It's scalable, customizable, and affordable.
The Liberty Kiosk App can be customized to meet your specific needs. Stores can decide which features to turn on or off and have displayed on the kiosk welcome screen. Also great for multi-department or multi-location situations where multiple kiosks are needed with each one displaying a unique set of options. Real-time data page options are readily available to get you going quickly. And best of all we made the price affordable for everyone.
Download It Now From The Apple Store.
Resaleworld.com is currently offering the Liberty Kiosk App for $9.99. Available on the Apple Store for download...
The Liberty Kiosk service is included for all Liberty Cloud users.
Stores using Resale Rewards can set up a 'POS Mode Only' in the App at no additional cost.
Desktop users will need an active Kiosk service plan / $20 per month.
Some features of the Kiosk App require an active Consignor Login service.
Compatible with with iPad or iPad mini.