Why choose Liberty4 Consignment?
Our unparalleled experience working side-by-side with business owners has helped us develop the highest quality, a state-of-the-art software product that will fit any business model whether you are getting started with your first location, or expanding your operation to multi-store locations.
Liberty4 Consignment is the only software suite that allows you the flexibility to choose a desktop based solution so you can manage one database per location or Resaleworld's Liberty Cloud, a service that enables you to manage one individual shop or many stores powered by one single database from anywhere.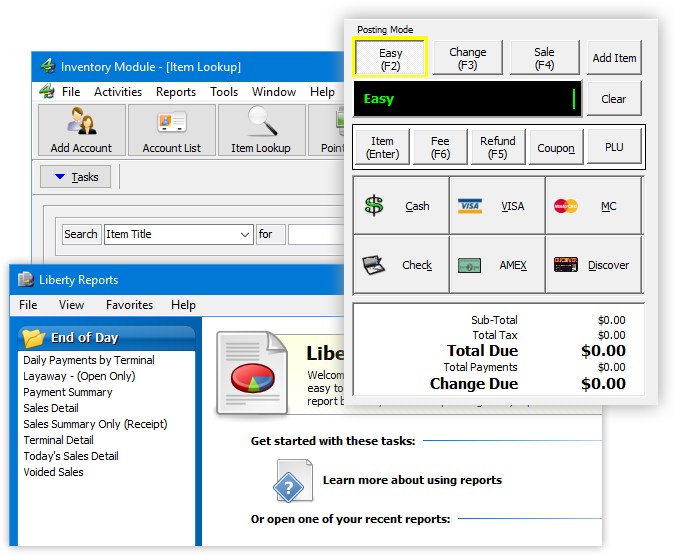 It grows with you.
Our Liberty 4 Consignment Desktop software is the best choice for single store start-ups or those that are looking to increase efficiency and automate their procedures for creating accounts, managing inventory, ringing sales, paying consignors and have full reporting capabilities. No doubt, Liberty is the most flexible and easy to use software program built especially for consignment and resale businesses. Let Liberty do the work for you!
True "multi-tasking"
Microsoft SQL Server database
Training mode option
Multi-level password protection
Customizable screens
Point-of-Sale interface
Custom categories
Scalable for growth
Track purchases
Integrates with QuickBooks
Backup and restore feature
Built exclusively for our biggest fans.
Resaleworld keeps making it better by building additional add-on services and software enhancements that further compliment the Liberty software suite. There is no limit to our creativity.
Resale Rewards
Resale Rewards is a Customer Mobile App Rewards program exclusive to Liberty merchants. Reward customers that shop often and building lasting relationships that will help your business grow.
reCommerce
Integrate your Liberty database with a Resaleworld hosted website and begin listing items to your new site directly from within Liberty. This enhancement will automate most online selling tasks such as updating store and online quantities to reflect recently sold items as well as crediting consignor accounts with the appropriate consignment split.
Shopify Integration
List new items for sale and manage online orders generated from your Shopify hosted website all from within your Liberty4 Consignment software. No need to rebuild your website or start from scratch. You can now integrate your existing Shopify website directly with your Liberty database.
Sell on eBay
Directly link your Liberty inventory to an eBay storefront and manage orders from Liberty. Create new eBay Auctions and Buy It Now listings with detailed images and purchase policies in seconds.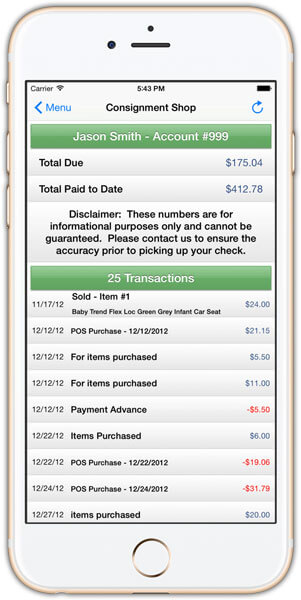 Liberty Mobile Apps
Item Entry App
No more restraints with our convenient mobile applications. Offer store employees greater mobility with our the Liberty Item Entry app so they can quickly take photos, price items, add new inventory and list products to your reCommerce website in record time.
Consignor Login
Encourage more shoppers to also consign with you by offering them download the free Consignor Login app so they can quickly check their balance while also discovering which of their items have recently sold.
Sales Summary
You can also keep a close eye on daily sales with the Sales Summary app while away on business or during those few minutes when checking email during your vacation.
Integrated Payment Processing
The benefits of integrated credit card processing is straightforward and makes running your business extremely effective. Our Liberty 4 Consignment software can directly integrate credit card and debit transactions to streamline your procedures and provide a seamless approach when ringing sales.
With integrated credit card processing, your business can be more profitable by reducing processing fees, delay receiving invoice payments or cash flow, or having to pay an additional member of your staff to 'balance the books' at the end of their shift.
Most importantly, security is a top concern. The manual method of managing finances leaves your business vulnerable, and in today's electronic world, banks are not as forgiving with fraudulent or mishandled purchases.
Benefits
Save time
Reduce expenses
Increase cash flow
Reduce human error
Strengthen security